Breathless - Shoot, Loot, Survive
A downloadable tabletop rpg
The city has been walled up from the outside. You are stuck with breathless Crawlers roaming as far as the eye can see. You are surrounded by strangers, and the only thing left to do is survive. You can't give up now.
➤ Patreon supporter? Get your free key here!
Content Warning: death, violence, gore.
Languages: English, Français, Korean
Presskit: Link
This game was designed as part of the Draconis Game Jam 2022
Ain't No Rest for the Wicked
Breathless is a survival horror role-playing game where you play as Survivors trying to stay alive in a walled city full of Crawlers (zombies). The entire game fits on two sides of a letter-sized sheet of paper, making it the perfect game to print at home and enjoy for a nice and cozy zombie killing one shot.

The game is inspired by things like: Shaun of the Dead, Left 4 Dead, The Last of Us, and other great zombie related media.

Basically, if you want to kill some breathless living dead, this is the game you are looking for.

Features
Beautiful half-fold brochure that contains everything you need to play.
Simple, yet deadly rules that reflect how tiring it is to survive a zombie apocalypse.
Rolling tables for weapons, locations, complications, missions, and more.
Looting mechanics to make sure you are properly armed against the undead.
Items deterioration mechanics for when you use them as a way to stay alive.
A beautiful character sheet available directly on the back cover of the brochure.
Breathless SRD
Breathless is also freely available as an SRD, so click here to start designing your own Breathless game!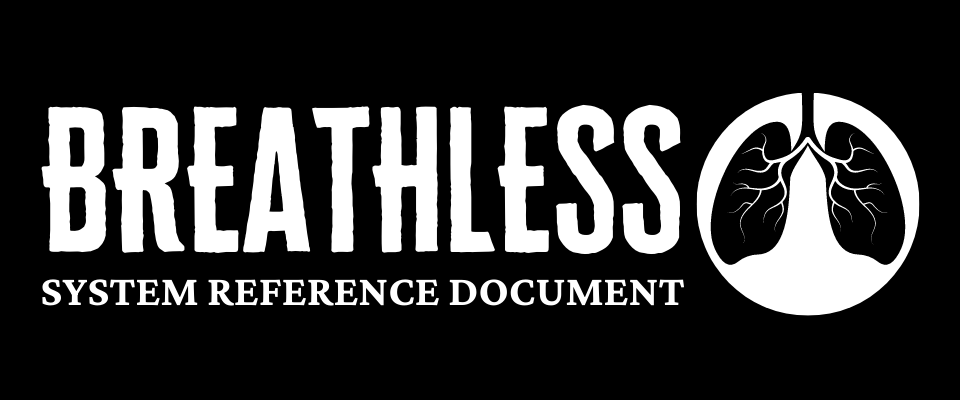 What Folks Are Saying
A survival horror rpg with condensed mechanics? Yes, please. Check out BREATHLESS. https://t.co/oLSt6jzCQR
— John Harper (@john_harper) March 1, 2022
I'm a huge fan of 1 pager games, and Breathless is a fantastic game. https://t.co/MxzUrVgtx3
— Matteo Sciutteri (@MasterRPG) March 1, 2022
This game looks amazing and I can't wait to try it out. The rules are so simple and easy to learn but have so much depth to them! I love usage dice! https://t.co/VNj8hQPCAq
— Sofia (@MythicSofia) March 1, 2022
Acknowledgements & Thanks
Breathless is inspired by both the format and mechanics of 2400 • Jason Tocci. I want to thank Jason for having designed the 24XX SRD, and for all the time he's taken to review and give me suggestions on Breathless. It truly meant a lot.
I also would like to thank Andrew Boyd from Pandion Games and Bruno from Opal Breeze Games who've also reviewed and provided suggestions on Breathless. Your opinions and friendships are very important to me.

Breathless is a product of Fari RPGs (https://farirpgs.com/)
Developed and authored by René-Pier Deshaies
Made possible by support of the Fari RPGs Patreon supporters.
This game was previewed, proofread, and enhanced by the Fari Community.
Purchase
In order to download this tabletop rpg you must purchase it at or above the minimum price of $6 USD. You will get access to the following files:
Breathless (Spreads).pdf
2 MB
Breathless (Pages).pdf
2 MB
Breathless Print Friendly (Spreads).pdf
2 MB
Breathless Print Friendly (Pages).pdf
2 MB
Breathless Character Keeper (Google Sheets)
À bout de souffle (Spreads).pdf
1 MB
À bout de souffle (Pages).pdf
1 MB
À bout de souffle Print Friendly (Spreads).pdf
À bout de souffle Print Friendly (Pages).pdf
1 MB
Community Copies
Support this tabletop rpg at or above a special price point to receive something exclusive.
Grab a Community Copy
If you can't justify spending money on the game right now for whatever reason, feel free to claim a community copy.
If you do so, please consider leaving a comment on the game's page to help spread the word, it would mean the world to me.
Enjoy!
Comments
Log in with itch.io to leave a comment.
Fear Bundle print proofs of Breathless
Was wondering if there will be anymore community copies?
Breathless is one of my favorite systems. It's super elegant and incredibly simple to learn, but the framework also allows for SO MUCH customization and modification. I'm also a sucker for games that let me use a full polyhedral set :D
Need proof that I love Breathless? I've made three Breathless games and I fully intend on making more (and expanding on some of mine that are already done!)
Breathless is the game that got me into game creation!
It's simple, complete and has a very easy learning curve that allow a group to set up, create characters and play in the same gaming session!

If you want to bash zombies in a game where survival is as important as the apocalypse going on around you, well Breathless is the game!
I was recommended this game via a solo rpg group. Is it actually possible to play solo, though? The description says 2+ players suggesting needing a traditional GM. No problem whichever the case, just wanted to make sure before buying it.
Hi!
The game wasn't designed to play solo, but I've heard from some folks it could easily be done. That being said, I haven't played it solo myself.
Out of curiosity, which solo rpg group would that be exactly ?
Now I'm wondering if I should release a solo version in the near future...
Thanks for the reply. It was this one https://www.reddit.com/r/Solo_Roleplaying/ where your game was mentioned.
I absolutely love the look of it but I'm not a fan of playing solo rpgs with "oracles" (e.g. Mythic) so tend to lean towards ones with built-in solo modes. I would definitely be very interested in Breathless if it had a solo mode/version.

Hey! I've recently released a solo sci-fi exploration game based on the same engine as Breathless, and it's called Nomadic!
Check it out at https://nomadic.farirpgs.com/
With simple mechanics that constantly ratchet up tension, Breathless is an excellent way to drop into a world where everything is out to kill you, and see if you've got what it takes to make it through another bloody day.